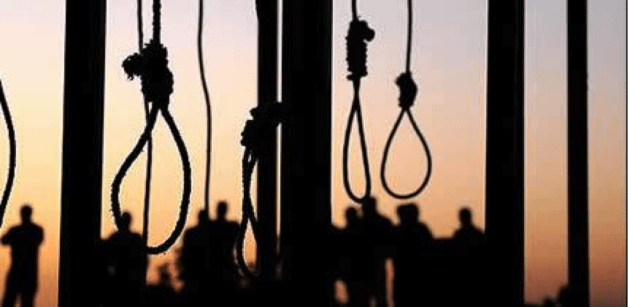 In only two days, May 24 and 25, authorities in Iran hanged at least eight inmates in the prisons of Isfahan and Birjand, human rights defender association No to Prison – No to Execution reported.
Two Executions in Isfahan Prison
At dawn on Monday, May 24, authorities quietly executed two prisoners on drug-related charges in Isfahan Central Prison. Activists identified them Kianoush Ali-Moradi, 50, and Ahmad-Ali Qodrati. Mr. Ali-Moradi was married and had several children.
The official media have yet to report these executions as of this report. The Iranian government continues to implement death sentences against inmates who have been convicted on drug-related charges while relevant officials have frankly admitted that the executions are fruitless. They say that not only are these executions ineffective in combatting drug smuggling, but they have brought reverse effect.
Furthermore, it was supposed that the issuance of death penalty be limited based on new reforms in the Islamic Republic's constitution applied in 2017. Judges were expected to consider one degree alleviation in drug-related cases. Nevertheless, authorities still hang inmates for insignificant charges.
Execution of Six Baluch Inmates
At dawn on Tuesday, May 25, Iranian authorities mass executed six Baluch inmates in Birjand Prison on drug-related charges. They were from Zabol city, in the southeastern province of Sistan and Baluchestan. However, the judiciary had exiled them to Birjand Prison, in the northeastern province of South Khorasan.
Activists identified one executed inmate as 34-year-old Javad Nakhaei, the son of Ali. There is no further information about the other executed persons. Their families had reportedly been banned from a last visit with their loved ones. These executions were also implemented silently, and state media avoided covering the news.
However, an eight-second video obtained from a morgue shows the lifeless bodies of the executed inmates. Meanwhile, at dawn on May 19, authorities had hanged two other Baluch inmates identified Younes Totazehi and Abdollah Totazehi based on similar allegations in the same prison.
In this respect, since the beginning of the new Persian year on March 21, at least 40 prisoners have been hanged in Iran. Human rights organization reported most of executions are carried out in secret meaning that the actual number of executions is far higher.
According to Amnesty International's 2020 report, rights organization and activists registered the implementation of at least 283 death sentences across the globe, aside from China. Out of this number, at least 246 cases were implemented in Iran indicating that well over half of worldwide executions were applied in the country. The Islamic Republic is also the record-holder of executions per capita, based on official stats.
In such circumstances, Judiciary Chief Ebrahim Raisi is running in the Presidential election scheduled for June 18, which forecasts much more human rights violations to come in Iran.