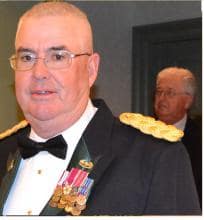 LTC Leo F. McCloskey was born and raised in Providence, RI. He was commissioned as a 2nd Lt, Military Police Officer on May 31, 1972 upon graduation from the ROTC Program at Northeast Missouri State College. After attending the Military Police Officer Basic Course, has was assigned to the 463rd MP Co. Ft. Leonard Wood, Missouri. While assigned to Ft. Leonard Wood, he served as an MP Platoon Leader and Military Police Station Commander. In 1973 he was assigned to the 529th MP Company as a Platoon leader in the EUSUAR Honor Guard in Heidelberg, GE. He was then selected as a General's Aid to the EUSUER Provost Marshal. In 1975 he was reassigned as the Commander of the 570th MP Railway Security Detachment in Frankfurt, GE. He attended the Military Police Officer Advanced course in 1977. He was then assigned to Worcester Polytechnic in Worcester, MA as an Assistant Professor of Military Science, from August 1977 to April 1980.
In 1982 LTC McCloskey joined the Rhode Island Army National Guard serving in various positions including: MP investigating Officer, 43rd MP Brigade (BDE), Commander of the 115th MP Company, and the 118th PM Battalion (BN). Executive Officer.
In 1991 he was deployed to the Middle East in support of Operation Desert Storm and Desert Shield where he served as the Executive Officer for the 118th MP BN during Combat Operations into Kuwait and Iraq. LTC McCloskey retired from the Rhode Island Army National Guard in 1998 after serving several years as the Long Range Plans Officer for the 43rd MP BDE.
LTC McCloskey volunteered for recall to active duty after September 11, 2001. In November 2006 he was recalled to active duty and was assigned as the Branch Chief of the Future Operation Section on the Senior Staff of United States Forces Korea. LTC McCloskey requested and received a follow-on assignment as the Commander of the Joint Inter-Agency Task Force located at Forward Operating Base Grizzly, near the Iranian Border in Iraq. His primary responsibility being ensuring the protection of 3500 people in the City of Ashraf which had been granted "Protected Persons Status" under the 4th Geneva Convention. In December of 2008 his tour of duty was extended facilitate the transfer of the mission to the Government of Iraqi who had agreed to assume to responsibility to continue the protection of the Residents of Ashraf. LTC McCloskey retired from the Army on March 17, 2009 upon his return to the United States from Iraq in February 2009.
LTC McCloskey holds a BS Degree in Law Enforcement and a Masters in Education Human Services. His military schools include the Military Police Officer Basic and Advances Course, Criminal Investigators Course, and the Army's Command and General Staff College.
During his career He has earned numerous awards including the Legion of Merit, Bronze Star, Defense Meritorious Service Medal, Meritorious Service Medal, 2 Army Commendation Medals and 3 Army Achievement Medals. During his service in Iraq he also received the Combat Action Badge for coming under fire during numerous rocket attacks while working at the US Embassy during March and April of 2008.