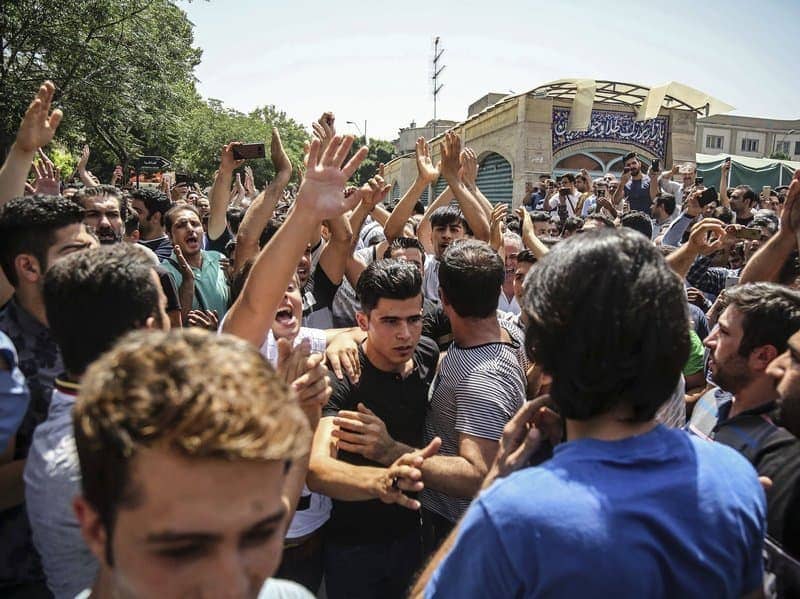 Iran, August, 21, 2019–The Iranian regime's anxiety over another potential uprising sweeping the country is reflected in its media outlets on an almost daily basis. For example, the state-run Ebtekar daily specifically refers to the deteriorating domestic situation and a possible social "explosion."
"Poverty, unemployment and other dilemmas are fueling the burning fire of social unrest, which can become a major source of troubles… In the past 18 months, the Iranian people have lost 80 percent of their assets' value. Poverty is engulfing the middle class and the lower classes and even the country's aid institutions are experiencing undesired and extremely poor conditions," the piece reads.
Can the ruling mullahs prevent this fire from evolving into unrelenting social protests?
The regime's reaction to the demands of workers and even street vendors shows the exact opposite. It appears that the mullahs have no solution other than imposing even further suppression and pressure on the people.
-270 employees at the Shafarud Forest Stocks Company were laid off recently as officials were no longer able to pay them.
-In the city of Hamedan, western Iran, instead of building a new school for kids to meet the growing demand, officials are instituting two different shifts for boys and girls in existing schools.
-In the women's prison of Qarchak, southeast of Tehran, authorities are not permitting families to provide food and clothing for the inmates. The prison food is either very low in quality or the prisoners are forced to purchase food, clothing and even water from the prison store at extremely high prices.
-Regime officials attack street vendors and confiscate their property. Social activists say the regime considers raids on street vendors as another source of income.
-The Water and Sewage Department of District 3 in Tabriz, a major city in northwest Iran, has distributed pamphlets threatening to cut off water unless local residents pay 15 million rials (approx. $450) each for sewage services. It is common knowledge that such expenses are covered through taxes. Forcing people to pay such fees is yet another method for plundering a society that is already grappling with poverty and a worsening economy.
-Farmers are facing major difficulties when selling their produce, and are forced to sell their products at lower prices. For example, in the city of Dehgolan in Kurdistan Province, western Iran, farmers were forced to sell their cucumbers at low prices, only to see regime insiders resell at local markets at three times the purchase price.
Such examples are witnessed across Iran on a daily basis. Regime officials are also voicing major concerns over a variety of social ills, poverty, skyrocketing inflation, growing defections of regime rank-and-file, rising public dissent and the threat of a new uprising engulfing the entire country.
"The enemy should not be seen as merely leveraging a military threat. In fact, the enemy's war room is attempting to weaken the nation's revolutionary spirit. The enemy's objective is to overthrow the Islamic republic," said Hossein Dehghan, a military advisor to Iranian regime Supreme Leader Ali Khamenei.
It is becoming crystal clear that all of the crises troubling Iran and the Iranian people can only be resolved through national solidarity and a strong will to take collective action. Of course, if this solidarity is linked to the Iranian Resistance, an immediate solution and a viable alternative would be at hand for the Iranian people.
This regime's overthrow is long overdue. Iran and the Iranian people can only be free, experience democracy and human rights, and realize prosperity through uprooting the mullahs' regime.