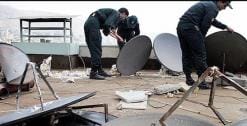 The International Telecommunications Satellite Organization, or Itelsat, has blocked Iran's official broadcast channels in Europe, according to a report on October 26 by the French news agency.
"Intelsat confirms that we took IRIB (Islamic Republic of Iran Broadcasting) channels off the satellite," Alexander Horwitz, a spokesman for the Washington-based company, told AFP.
The channels that were shut down included Sahar, Jam-e-Jam, Islamic Republic of Iran News Network and al-Kowsar, said Press TV, a unit of IRIB.
The action by Itelsat follows similar measures on October 15, by one of Europe's leading satellite providers, Eutelsat Communications, which said it stopped broadcasting the Iranian channels.
Viewers in the Middle East and Europe as well as those inside Iran who accessed the channels through the popular Hotbird satellite no longer have access to the channels, according to a report by the Wall Street Journal.
The ban by the two telecommunications giants was viewed by Iran observers as being inevitable given the crippling sanctions the international community has imposed on Iran, making any financial dealings with the regime illegal. The move also appears to have been prompted after Iran escalated the jamming of satellite broadcasts to censor broadcasts during recent protests over a plunge in the local currency in early October.
Over the years, Iranian authorities have tried desperately to block any satellite transmission into Iran, especially broadcasts that are critical of Tehran's handling of the Iranian economy, its human rights record, its nuclear program and its meddling in Syria and other regional countries.
In addition to the Voice of America and BBC Persian Services, Iran has specifically targeted Iranian opposition channel, Simay-e Azadi, which is sympathetic to the main Iranian opposition movement, the Mujahedin-e Khalq (MEK). The channel's broadcasts, which can also be accessed through the internet (www.iranntv.com), have proven to be extremely popular with Iranians. Its satire pieces, which mock senior Iranian officials including Supreme Leader Ali Khamenei and President Mahmoud Ahmadinejad, have wide following inside the country.