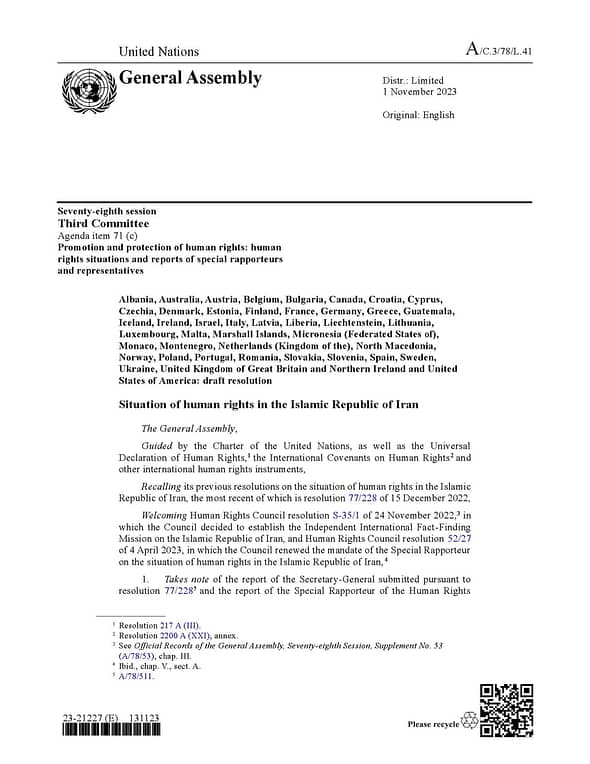 A UN General Assembly committee has slammed Iran for discriminating against and harassing women and girls, in addition to a host of other human rights violations.
The Third Committee of the 78th General Assembly approved a resolution entitled "Situation of human rights in the Islamic Republic of Iran" by a vote of 80 in favor.
The resolution, whose draft was introduced by Canada, condemned the misogynistic policies and practices of the Iranian regime, calling on Tehran to put an end to its discrimination against women.
The regime continues to introduce yet stricter legislation to crack down on hijab and 'chastity' laws as more women across Iran reject the mandatory headscarf and curbs on their behavior. Surveillance has been stepped up and like Mahsa Amini, the symbol of the Women, Life, Freedom uprising which began after her death in morality police custody last year, a 16-year-old girl, Armita Geravand, also died in their hands in recent weeks.
Citing "the Iranian authorities' flagrant disregard for human rights, life and dignity", the resolution condemned "the intensified, targeted repression of women and girls by Iran, both online and offline". Women are arbitrarily arrested on the street for hijab refusal and refused entry to public spaces including universities, hospitals and public spaces.
https://press.un.org/en/2023/gashc4401.doc.htm